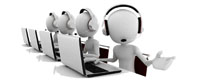 Tel: +86-769-8118 3549
Fax: +86-769-8255 1233
E-mail: info@lintechtt.com
Add: 3/F, Blcok A8, Kaida Creative Industry Park, Qiaochang Road, Qiaotou Town, Dongguan City, Guangdong,China.
QQ: 1139899481



Product name : RFID Card Reader/Writer: 13.56MHz

Product No. : SL500

Introduction : Available in 13.56MHz Radio Frequency

1 : ISO14443A, ISO14443B, ISO15693 compliant

2 :

Application : Inquiry system

1 : Member management system

2 :
Details:

Brief Description:
1:below sheet shows its category and price message. These proximity readers support ISO14443A, ISO14443B and ISO15693 passive cards, tags and labels.
2:Free SDK is provided, it helps an engineer to programming his/her own applications. The package is composed of PC_DEMO software, WinAPI and prototype
3:description, USB driver, sample source code in C#, VC, BC, VB, PB and DELPHI.
FEATURES:
Available in 13.56MHz Radio Frequency

ISO14443A, ISO14443B, ISO15693 compliant

RS232/USB interface

Mi-fare classic 1K, 4K,Ultralight,I.CODE SLI

Working range at 0-7cm

Voltage: 4.5-5.5VDC/150mA

Windows 32 Operating Systems Compatibility
APPLICATIONS:
Access control

Identification

Time and attendance terminals

Inquiry system

Member management system